Download episodi anime TRIGUN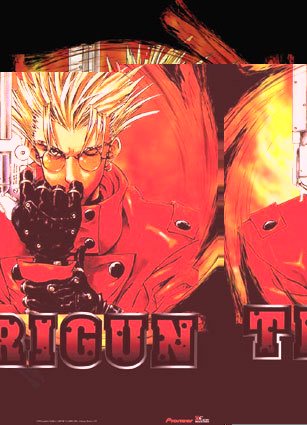 Trama:
Trigun narra le vicende di Vash the Stampede, primo caso nella storia di uomo dichiarato calamità naturale. Tutto ciò che si sa sul suo conto è che si tratta di un pericolosissimo ricercato alto, biondo, con un cappotto rosso, una grossa arma e soprattutto con una taglia sulla testa da 60 miliardi di $$ (doppi dollari), conosciuto nel mondo con il soprannome di tifone umanoide a causa dei tanti disastri che lascia dietro di sé viaggiando di città in città. Ma la vera natura del misterioso pistolero è ben lontana dall'essere malvagio e crudele che tutti si immaginano; Vash è in realtà un tipo spensierato e un pacifista convinto, sempre pronto ad intervenire per salvare gli altri e con due sole grandi passioni: le belle donne e le ciambelle.
LISTA EPISODI DA SCARICARE:
1. L'uomo da 60 miliardi di doppi dollari
2. Truth of Mistake
3. Pacemaker
4. Love & Peace
5. Hard Puncher
6. Lost July
7. B. D. N.
8. Between The Winds And The Sky
9. Murder Machine
10. Quick Draw
11. Escape from Pain
12. Diablo
13. Vash the Stampede
14. Little Arcadia
15. Demons Eye
16. Fifth Moon
17. Rem Saverem
18. And Now, Goodbye
19. Hang Fire
20. Flying Ship
21. Out of Time
22. Alternative
23. Paradise
24. Crime
25. Live Through
26. Under the Endless Blue Sky
Per scaricare tutti gli episodi della serie TRIGUN devi essere registrato.
Condividi Download Anime su: